Barron Plumbing, Inc.
We are a family-owned and operated residential and commercial plumbing company that has been serving the people of San Angelo, TX since 1962.
Our licensed, uniformed plumbers can handle most any plumbing problem from burst pipes to water heater replacement. We use only top-of-the-line brands for replacement parts and installations.
If you hear that drip, drip, drip in the middle of the night or wake up to an unpleasantly cold shower, call Barron Plumbing: 325-655-3151.
Three Generations of Experienced Plumbers!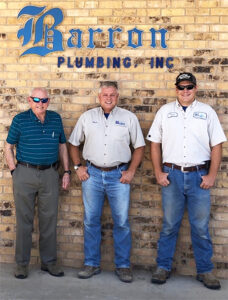 Today, our team is led by master plumber Kevin Barron (License M-38682). Whether you are looking to replace some fixtures or you need emergency plumbing service, you can trust us to handle the job reliably and professionally. We're here to serve you when you need us most.
Our Services
We provide residential and commercial plumbing services including:
Remodeling and New Construction
Fixture Repair & Replacement
Toilet Repair & Replacement
Water Heater Replacement
Burst Pipe Repair
Video Pipe Inspections
Leak Repairs
Pipe Replacement and more!
Emergency Plumbing Service
Emergency plumbing services available 24/7 – call 325-655-3151!
After hours and weekends call 325-656-7732.
RELIABLE, PROFESSIONAL PLUMBING SERVICE, 24 Hours a Day
Contact Us
We are here for you 24/7.  Call 325-655-3151 today or email us to schedule your next plumbing service!
Location
3226 Foster St., San Angelo, TX 76903